Doug O'Rourke's company --
Dozer Construction --

specializes in golf course construction. However, the scope of work has expanded at several of the golf course construction sites and housing developments. Additional work includes installing utilities, site work, parking lots, road development, storm water and landscaping.

"My experience in the golf industry started in 1985 at Treetops Sylvan Resort working under Robert Trent Jones Senior's Florida golf construction company rough shaping on the Robert Trent Jones Sr. Masterpiece. Together, the owner of Treetops Sylvan Resort, Harry Melling and director of golf, Rick Smith, had another project in the planning stages. They were impressed with my quality of work and asked if I would like to build their next eighteen hole golf course with my own crew. That is when Dozer Construction, Inc. nearly two decades ago."
Doug O'Rourke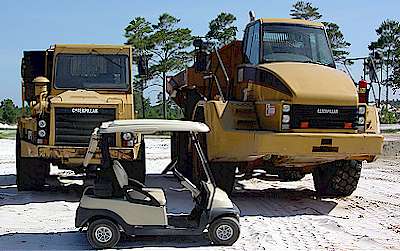 Whatever the job calls for...
Doug O'Rourke and Dozer Construction will get it done.